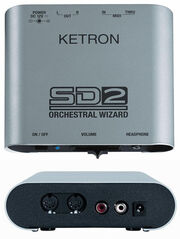 The Ketron SD2 Orchestral Wizard is a high-quality pocket size sound module designed for all PC and MIDI applications. It has all the latest features for recording, programming and live performances, featuring a New Stereo Grand Piano and huge Orchestral voices such as Saxophones, Brass, Woodwinds, authentic Guitars, Accordions and many others; The quality of these instrumental voices is remarkable. In addition, the SD2 includes very distinctive Audio Drum and Percussion Loops selected from Slow, Jazz, Latin, Acoustic, Traditional, and Dance styles.
The Ketron SD2 Orchestral Wizard has a simple interface with MIDI in and thru connectors and a stereo RCA output for connection to your computer, MIDI keyboard, guitar, or other controller, allowing you to access the voices for live use, studio recording, and programming.
Used in conjunction with a Computer, Master keyboard, MIDI accordion or MIDI guitar, the SD2 offers an "all-in-one" great sound resource that can be used to greatly enhance standard MIDI files, as well as for Home and Studio compositions and recordings. Its MIDI capability permits it to control up to 32 MIDI channels and DSP effects such as Reverb, Chorus, Delay and Distortion.[1]
Installation
Edit
Installation was easy, had to be made over a Midi to USB Interface since the Ketron does not have a USB. I used an Edirol Midi to USB Interface which is hooked on my lap-top (Vista 32 bit). As a consequence the Ketron itself does not apear in BiaB as a Midi instrument (instead apears the Edirol interface).
The whole set-up has been working perfectly for 6 months now.
Don't forget to uncheck the DXi option in the options of BiaB to have the Ketron working properly (the Ketron blue diode is then blinking during the playing...).
How it works in BiaB
Limitations
Edit
The Ketron is really a nice piece of hardware... Its only limitation is that it is not possible to "change it" and add new instruments. I personnaly do not think it is a limitation since many sequencers (like Real Band for ex.) allow to mix the Ketron sounds with other (hardware or software) synthetisers.
References
Edit
↑

PGMusic:Hardware
External Links
Edit